In order to download and play Throne and Liberty, you must first download and install the NCSOFT launcher, Purple. You can download it at the following link.
1) Run PURPLE launcher and update it to the latest version. (If you don't update it, the download will not be enabled). To update Purple click on 'Update Center' at the bottom left of the launcher → Click on the PURPLE button.

2) After the update is complete, click [Show hidden icons] on the right side of the taskbar. Right-click the PURPLE icon, click [Exit] and restart PURPLE.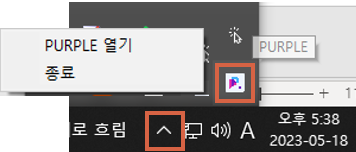 3) Next, click the settings icon on the top right of the launcher. Verify that the version of PURPLE is (1.0.9.30).
4) Click the [Pre-Install] button and start the Throne & Liberty pre-installation (requires 60 GB of disk space). Keep in mind that only those who have been chosen to participate in the CBT and their guests will be able to play the test.